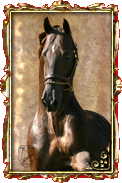 WCC Sire
Only Man In Town
WCC Sire Only Man In Town
16.3 Hands Liver Chestnut
Only Man In Town is sired by WGC CH Man On The Town (WGC 5-Gaited Horse '89 & 90). His dam, Only You, was a champion in the 5-gaited division on the west coast with championships at Santa Barbara & Del Mar. She is sired by WGC sire Supreme Sultan.
Only Man In Town is the sire of the 2004 WCC It's All About Me; 2004 WC Home Town Edition; and 2002 WI. Futurity Limited Breeder's Stake Champion, "Royal Crest's Rock Island".
Only Man In Town is a 16.3 hand stallion that is extremely talented off both ends and has the quality, pedigree and attitude to make a great breeding stallion.